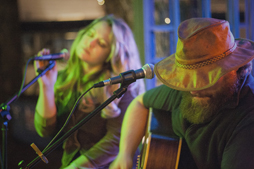 Justin Marks and Tiffani Theiss make up the acoustic duo, JUSTIF. They are reminiscent of days gone by... a throw back to an era where a guitar & vocals were all anyone needed. With shades of folk, classic rock, & americana, Justif strives to better build the bridge between the "then" & the "now".

JUSTIF first met in NYC, but have been calling Austin home for close to a decade now. After several years of playing in the ATX, they've slowly begun taking their show on the road to destinations in the greater Texas area. In June of 2015, they released their first official EP "Piece of Mind" recorded at Jumping Dog Studios in Austin, TX. They've also previously released several live songs & demos from their growing library of Justif originals. For the most part, they focus on remaining a true "live" band, playing regularly on any given night of the week.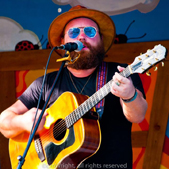 Justin's first passion was playing the drums. Self-taught at a very young age, he spent his teens playing in bands around the northeast. Then he took to traveling... going on cross-country road trips and spending time exploring the US.
His passion for music fueled his desire to eventually take up the guitar and his own hand at writing... which he pens with poetic profoundness. Yet, the lyrics are simple, meaningful, and heartfelt, allowing listeners to relate on every level. This complements his unique, rhythm driven, drummer-steady guitar playing beautifully.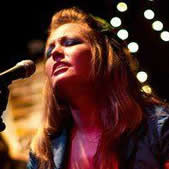 Coming from an artistic background as well, Tiffani's always felt a strong connection to music- especially singing. As a child, she learned the invaluable gift of harmonizing by ear from the ladies in church choir. In years to come, she went on to take every music elective in school, eventually landing small parts in musicals... which naturally led her to pursue the performance arts.
After graduating from college in the mid-west, she packed up & headed to the big apple to pursue her dream of performing on stage. It was only natural the road came full circle when acting brought her back to singing.
Interested in booking us?
send us a message!